Basic Fire Fighting and Fire Drill Training Discount 50%
Basic firefighting training
according to law
Which establishments need to do firefighting training  as prescribe from law, establishments must provide training for employees not less than 40% of number of all employees of each section and basic firefighting training provide training for firefighting 60 people per 1 class per 1 trainer In practice, 20 trainees per 1 trainer.
Entrusted from Leading Customers
Learn techniques for using each type of fire extinguisher
How important is Fire Fighting Training?
Sometimes we found fires case in the company, factories or buildings are caused by our inability to control fire from beginning, causing fire to expand and become more difficult to control from minor fires that are severe and cause life-threatening damage  and property Safety legislation in Thailand places emphasis on ensuring that employees have to know and understanding of how to properly control and initial firefighting in order to respond to fire incidents from spreading be able to use basic fire extinguishing equipment correctly and safely
How many people are required to train fire fighters?
The answer is
of the number of each section
The law provides training and rehearsals at least once a year
Ministerial Regulations as basic FireFighting Training Agency.

Registration/ orientation /Pre-test

Theory session as this follow
1) The fire theory
2) Type of fire and different types of firefighting.
3) Psychology in the event of fire.
4) Fire sources protection.
5) Types of fire extinguishers.
6) How to use PPE for firefighting.
7) Fire Safety Emergency Plan.
8) Fire Safety Emergency system applied of equipment and system in company.


Practical session
1) Practice in type A of fires with using portable fire extinguishers that used in pressurized water or type A extinguishing.
2) Practice in type B of fires with using portable fire extinguishers that used in Carbon dioxide, foam, dry chemical or type B extinguishing.
3) Practice in type C of fires with using portable fire extinguishers that use in Carbon dioxide, foam, dry chemical or type C extinguishing.
4) Practice firefighting with fire hoses.

*Take a break at 10.30 -10.45am. and 14.45 pm.
*Lunch time on 12.15-13.15 pm.
1.Fuel which in a solid, liquid or gas.
2.Oxygen which in the air approximately 21%
3.Heat is enough to ignite. 3 elements fire will ignite and chain reaction occurrence. Read more..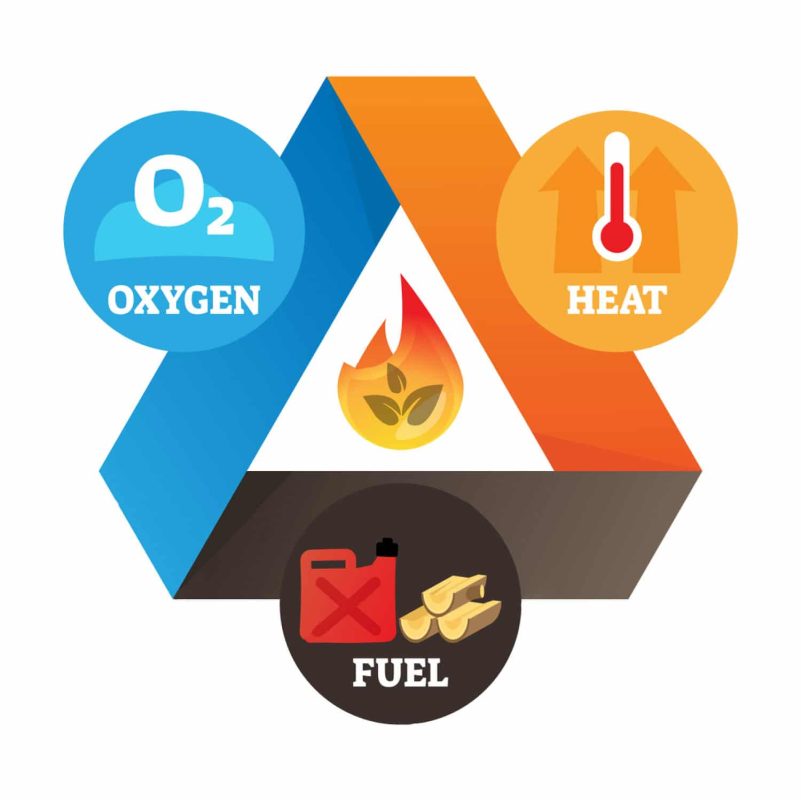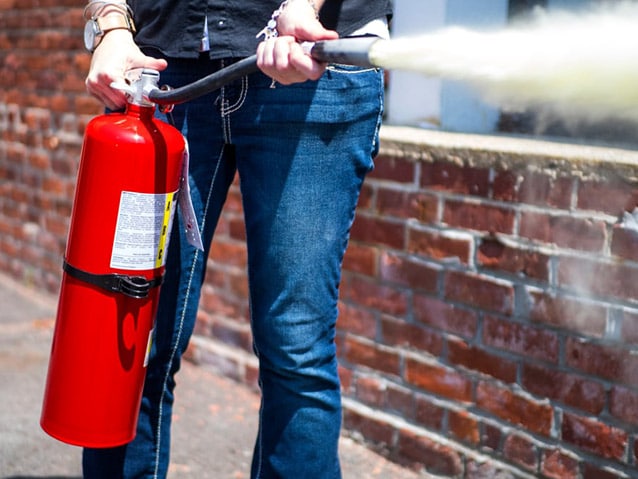 Learning how to use fire extinguisher.
Fire extinguish

 

A type
Fire extinguish

 

B type
Fire extinguish

 

C type
Practice fire fighting with fire hoses.

 
What is Fire Fighting Training?
Firefighting Training Course is course that trains employees within workplace and company, employees who do Work inside buildings, offices, factories and department stores Learn preparing to deal with fire situations correctly and safely as possible. In addition to course, there will be teaching how to prepare for unexpected situations.There is also training on how to use tools and fire extinguishers properly including building knowledge in building structure to know fire escape route and the correct use of the fire door. So, that when fire fighting training course is completed. All employees within the organization can apply knowledge and apply it in workplace as efficiently as possible. Basic Firefighting Training Course consists of both theory and practice In which firefighting trainees must attend both theoretical and practical training for at least 3 hours per class, each class of fire fighting training must consist of no more than 60 participants to 1 speaker after completing fire fighting course Participants will receive a certificate through the initial firefighting training course and fire evacuation drills for the workplace for legal evidence.
Which businesses should have fire fighting Training?
Firefighting training courses are appropriate for employers, employees and factory workers, including employees of all business groups working within the office building, factory and all types of  department store with more than 10 employees, including if there is any place where there are many business buildings together.  All employers must to  provide on firefighting, protection and fire prevention together. Each company should to  provide for employees attend basic firefighting training at least 40% of each work unit and employees of all organizations must to join 100%  of fire drill  training at least once a year. Importantly, the firefighting trainer  have to licensee required of the Department of Labor Protection Welfare only. as conform with  Ministerial Regulation on the Standard for Administration and Management of Occupational Safety, Health and Environment in relation to Fire Prevention and Control, B.E. 2555 (A.D. 2012).  In addition to business establishments and agencies that meet the preliminary provisions incase of the company that under the assessment criteria that located in high-risk locations, fire training is also required  as  this follow.
1. Place there light-risk  of fire means to place where is a small amount of flammable or combustible material.
2. Place there moderate risk of fire means to place where is not to large amount of flammable or flammable material.
3.Place there serious risk means place where is a large amount of flammable or flammable material must to get fire fighting training and closely attend situation.
Benefits of firefighting training
It is a requirement of the law that every business establishment that falls under the law must provide its employees with basic firefighting training and fire evacuation drills. Resulting in employees having basic firefighting skills, including how to use different types of fire extinguishers. Without knowledge and understanding when an initial fire occurs, witnesses will not be able to assess the situation whether to proceed. how to react
1. Employees in the organization understand the causes and prevention of fire.
To distinguish the type of fuel, employees must have an understanding of the important basics of combustion because each type of fire has different characteristics. These lead to consideration in choosing a fire extinguisher or extinguishing equipment. fire that will respond correctly and ensure safety for firefighters according to international standards
The 5 types of fires that need to be learned are:
Class A fire (Ordinary Combustibles) Is a fire caused by combustion from common materials such as paper, scrap wood, rubber, and plastic.
Class B fires(Flammable Liquids) It is a fire from flammable liquid fuels such as oil, flammable chemicals.
Class C fires ( Electrical Equipment) It is a fire from an electrical device that has current flowing when the electrical equipment fires.
Class D fires (Combustible Metals) It is a fire caused by the ignition of various metals such as car wheels.
Class K fires (Combustible Cooking) It is a fire from the remains of animal remains. cooking vegetable oil
2. Learners are able to assess events and evacuate fire accurately and quickly.
In assessing the situation during a fire, it is very important that the assessor must have knowledge in many areas. Must be conscious in order to quickly coordinate with other relevant agencies to make fire control and fire response more effective.
Once everyone is trained in fire fighting systems, they can properly assess the situation. and do not panic when evacuating, having to escape from the building when a fire occurs Including when seeing a fire in front of you, it can warn others or immediately stop the preliminary incident.
Actions according to the organization's emergency plan for initial response to fire suppression according to the severity of the fire. The correct use of fire extinguishers according to the type of fire. Make fire extinguishing effective and suppressors safe.
Use of fire hoses Which is in the fire cabinet provided by the building How it works and the use of hand signals to turn on and off. Water valve, because it will require many people.
Practice fires caused by conventional fuels and gases by using fire extinguishers properly. and the installation location of fire extinguishers in the building, where, how many
Fire Emergency Response Since fires are small in size to prevent incidents from escalating to extremes, it is evident that trained personnel will have confidence about cylinder fire response. fire
because it has been trained differently from employees or people who have not passed or never trained
When there is an accident, it will not be able to extinguish the fire properly or may use the wrong equipment, these things can lead to danger Therefore, we should educate all employees to have knowledge about basic fire response according to the course that The law requires that everyone be prepared in case of a fire in our facility.
What is Annual of fire drill Training?
Fire evacuation is Preparedness when there is a fire in our establishment at the level of severity as the organization has set.
Level 1 can be controlled.
Level 2 Must to control by firefighting teams and firefighting equipment.
Level 3 severe and cannot control must be evacuated from the area.
Therefore, employees in company must prepare and proceed annual fire drills in order to be ready for real. It is demonstration or suggestion to be ready in each department misconfusion while walking to assembly point in each area, etc.
Why select fire fighting training with Safesiri?
Safesiri (Thailand) Co., Ltd. is a leading provider of firefighting training courses in Thailand.  We are legally certified and licensed by the Department of Labor Protection and Welfare.  Importantly, the company is fire fighting training course Training by a team of lecturers who have been registered from the Department of Labor Protection and Welfare with learning equipment both theory and practice that under  international standards.
Firefighting training courses in theory can be trained online  with the ZOOM. But practical part and evacuation will be on-site training, so that the trainees can practice in the real place conform with Ministerial Regulation on the Standard for Administration and Management of Occupational Safety, Health and Environment in relation to Fire Prevention and Control, A.D. 2012. 
Quality management standard ISO 9001:2015
(Quality Management System: QMS) Quality assurance ensure in our process up to standard in control and traceable all of our process.