Working with Chemicals Courses Hazardous

Chemical recovery as International Standards
What about Chemical Training?
Working with hazardous chemicals is risky job. If employees in company do not understand about chemicals management their company accidents and dangers may occur. Often, chemical accidents occur because the company still lacks ability to manage chemicals in way that results in various hazards such as An explosion occurred in flammable chemical storage area, employees injury from corrosive chemicals, etc. Therefore, working with hazardous chemicals or in possession of hazardous chemicals should learn about the management of these hazardous chemicals to ensure safety as international standards and regulations.
Department of Labor Protection and Welfare
Entrusted from leading customers
Who needs Chemical Training?
According to Laws, the Safety act has stated to require employers to provide occupational Safety training for employees. To have knowledge and understanding of work before starting. Working with chemicals is risky job. Employees must have understanding of how to safely work with chemicals and learn how to keep hazardous chemicals. Response to chemical leaks properly with PPE equipment that acheive international standards.
GHS (Globally Harmonised System for Classification and labeling of Chemicals)
Type 1 Explosives.
Type 2 Flammable Gases.
Type 3 Oxidizing Gases.
Type 4 Gas Under Pressure.
Type 5 Acute Toxicity.
Type 6 Corrosive Substances.
Type 7 Respiratory or skin sensitization.
Type 8 Acute Toxicity-harmful.
Type 9 Hazard the Aquatic Environment.
By Safety officer, intensive practice with team of instructors closely.
Experienced lecturer from the petrochemical industry, Oil and gas.
Chemical retrieve Techniques as international Standards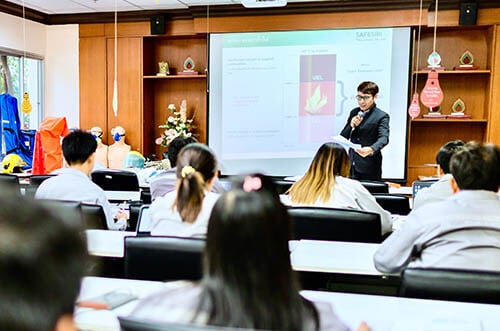 Laws and Standards Learning.
Relates laws about chemical in Thailand and standards for chemical management.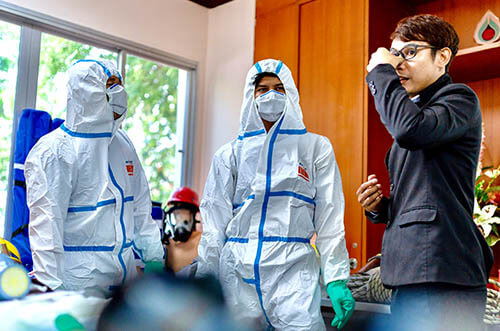 Practice wearing chemical protective clothing.
Learn to wear chemical protective clothing. That used to move various types of chemicals.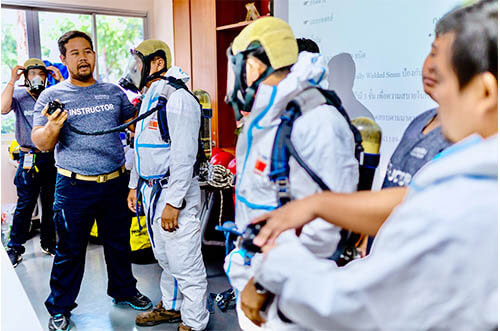 Chemical learning rescue equipment.
Real experience about equipment used in emergency response to hazardous chemicals leaks.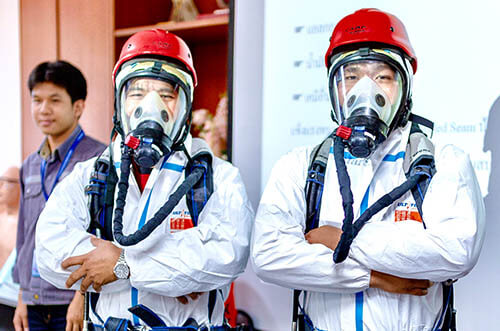 International learning materials.
Trainee have to practice with PPE as the standards.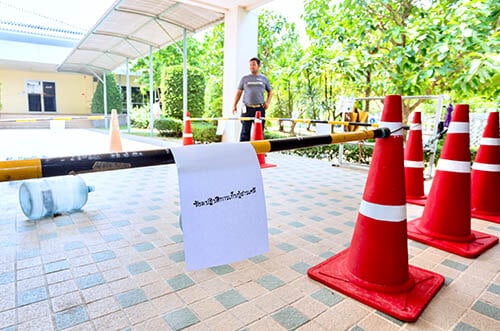 Simulate chemical leaks event.
Practice how to safely and properly retrieve hazardous chemicals.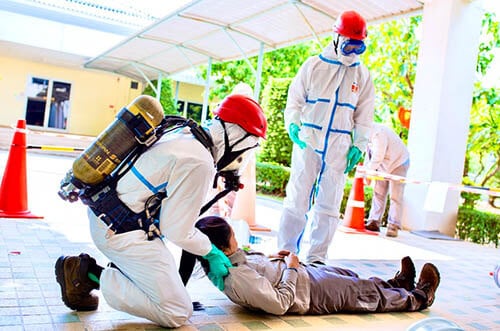 Practice rescue wounded.
Trainees learn how to professionally assist chemical-injured victims.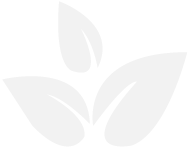 77 provinces throughout Thailand.
- Thai Course
- English Course
No more than 30 people in class

Time duration 1 day (6 hours)

Certificates to all trainees
Proper proportion of courses designed to intensely train and practice.
Teaching standards with emphasizes practicality
to 70%
Quality management standard ISO 9001:2015
(Quality Management System: QMS) Quality assurance ensure in our process up to standard in control and traceable all of our process.